The Couples College Course -- easy as 1 - 2 - 3 !
You can get good at partnering -- just like you get good at other things!
Build the Skills for Life-Long Relationship Happiness
Maintaining Friendship - Always
Staying connected, levels of influence and sexuality
Dealing with Conflict
Why conflict happens, why we get stuck, how to get better at resolution
Sharing Dreams & Developing Shared Meaning
Dreams for the future about lifestyle, about family, and if our visions are different, how can they come together
No Boring Class Lectures!
You'll have frank conversations in a comfortable, cozy setting.
You'll learn together, with direction from Allie and Murray.
You'll practice in the session, so it will be easier to use the techniques at home, when you need them.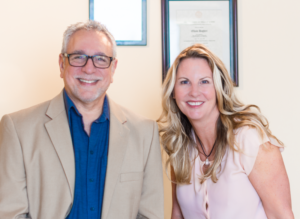 Allie Caffyn, LPC
Licensed Professional Counselor for 20+ years, married 25+ years
Murray Dabby, LCSW
Licensed Clinical Social Worker for 30+ years, married 25+ years
Learn why some marriages succeed, while others fail
Join the online session and understand right away what you're doing right - and what you're doing wrong. You'll leave with information you can use immediately to get your relationship back on track.
Free Online Couples' Group 
Friday, July 10, 2020 at 10 am
RSVP to get connection details.
Curious about what you'll learn together? Allie & Murray explain.
See How the Course Works -Join a Free Online Couples' Group
Hear about the skills that will be shared

Meet other couples who are seeking knowledge too

See how Allie & Murray share information and ask questions

Experience how a group works
Free Online Couples' Group
RSVP to get connection details
Course Cost
$250 per couple per meeting
$250 deposit holds your space in the course
Course Location
Wednesdays, 6:30 pm to 8:30 pm, beginning September 9, 2020
The course will be offered online if social distancing requirements are still in place in September, 2020.
If restrictions are lifted, a location will be listed here.
Sample the skills and meet Murray and Allie...
...before you decide on the course