Winter QuickStart Course begins February 29!
Early bird discount extended through February 24!
The Couples College Course -- easy as 1 - 2 - 3 !
You can get good at partnering -- just like you get good at other things!
Be Happy in Your Partnership
Maintaining Friendship - Always
Staying deeply connected, improve levels of influence, passion, sexuality, play and fun
Dealing with Conflict
Why conflict happens, why we get stuck, how to get better at resolution
Sharing Dreams & Developing Shared Meaning
Dreams for the future about lifestyle, about family, and if our visions are different, how can they come together
No Boring Class Lectures!
You'll have frank conversations in a comfortable, cozy setting.
You'll learn together, with direction from Allie and Murray.
You'll practice in the session, so it will be easier to use the techniques at home, when you need them.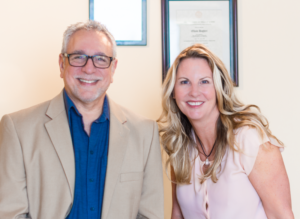 Allie Caffyn, LPC
Licensed Professional Counselor for 20+ years, married 25+ years
Murray Dabby, LCSW
Licensed Clinical Social Worker for 30+ years, married 25+ years
This course is perfect for couples with children of every age.
New parents: learn what to do when your parenting styles don't match
Parents of teens: reconnect with each other, now that the kids require less supervision
New empty-nesters: recreate the fun and passion of youth, now that it's just the two of you
Curious about what you'll learn together? Allie & Murray explain.
EARLY BIRD DEAL EXTENDED UNTIL 2/24!
Cost
$500 per couple per month
Early Bird Deal: $440 per couple per month if you register by 2/24
Dates
Saturdays, from 9:30 am to 1:30 pm
Feb. 29, Mar. 28, Apr. 25, May 30, Jun. 27
Small Group Session
No more sessions scheduled before
the Winter Course begins
Call 678-374-9555 for a quick intro by phone!
Free to couples interested in the course
Learn why some marriages succeed, while others fail
Come to the session and understand right away what you're doing right - and what you're doing wrong. You'll leave with information you can use immediately to get your relationship back on track.
Next Small Group Sessions:  
Saturday, March 28, 2020  9:30 to 11:00 am
Saturday, April 25, 2020  9:30 to 11:00 am
Free to couples who are interested in the course.
Hear about the skills that will be shared

Meet other couples who are seeking knowledge too

See how Allie & Murray share information and ask questions

Experience how a group works
Next Small Group Sessions:  
Monday, February 24, 2020 at 6:30 pm
Free to couples who are interested in the course.
QuickStart Course Cost
$500 per couple per meeting
Early-bird discount $440 per couple per meeting - if you register by 2/24/2020.
$500 deposit holds your space in the course
Scholarships are available. Call us to discuss your situation.
Course Location
1989 North Williamsburg Drive, Decatur GA 30033
Sample the skills and meet Murray and Allie...
...before you decide on the course